Castle Rock Electric LLC
24300 Solon Rd, Unit E
Bedford Hts., Ohio 44146
Phone 440-337-9080
  Fax (440) 229-6210

                                    Adam Ellis Ohio Lic# 46187
                                                                                      Ed Ellis  Ohio Lic#18217

Don't wait till the next power outage.
Order your standby generator today.
EMERGENCY – EMERGENCY – EMERGENCY
FINANCING AVAILABLE:
We can install for you a standby generator and give you NO INTEREST with approved credit.  Also, if your budget is tight, we can set you up with a portable generator and make it easy for you to plug in your furnace, refrigerator, sump pump and whatever else you need for temporary power.
                                     FINANCING AVAILABLE
For all your electrical needs we can offer financing. Why pay all up front when you can spread it out.
We can offer 0% interest for the first year.
Enter promocode 1023-3875
ELECTRICAL CONTRACTING:
We are master electricians.  As specialists in Electrical  Repairs, Installations and Emergency Service, you can be assured that we will be professional, honest and dependable. Whether the job is small or large, you are our number one priority and safety is our main concern.
We  want you to be pleased with our services. Our technicians are top-notch and can take care of all your electrical needs. Guaranteed!
Please note that we have an A+ rating with the BBB.  Our customers love our company, and you will, too!
Call  440-337-9080
GFCI PROTECTION:
A properly functioning GFCI prevents you from an accidental electrical shock hazard. GFCI's protect you when a piece of electrical equipment you are using is defective.
Check your GFCI's on a monthly basis:
Press the test button on the GFCI. If it works properly, you will hear a click and the reset button will pop out slightly. To reset the GFCi, you merely press in the reset button, and this should put the gfci back to normal operating status. If it does not reset, or if the GFCI does not trip, then it is defective, and you should call 440-337-9080  to replace the GFCI – or find out what is wrong with the circuit.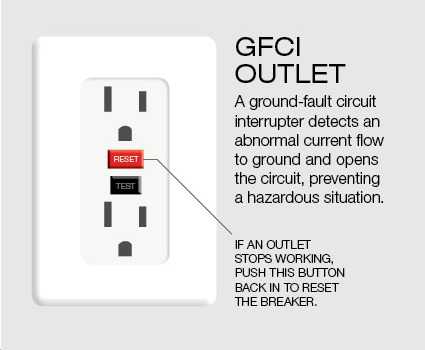 If you need help with this process, please call 440-337-9080.  We will be happy to give you electrical assistance, in fact, if you don't know about electricity, it is safer to call an electrician.  One mistake can cause a fatal result.
Call 440-337-9080.
Estimating & Bidding:
Whether you have a small project or a large building that needs rewiring, or are building a new facility, our estimators can give you a fair honest quote with reasonable terms to get the job done. Our team will create a package with all the ins-and-outs that are required to complete the project.